For Your Information | For Sale | Donations | Volunteers | Prayer and Bible Study | Sunday School | Outreach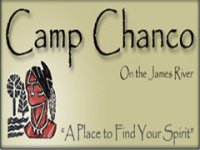 Chanco on the James
March 2013
Don't Delay ~ Register Today
For the summer memories of a lifetime!
Chanco on the James is our diocesan camp and conference center and is situated on the James River in Surry, Virginia. Chanco is a fully accredited camp operating continuously for over 40 years providing youth opportunities for individual challenges, personal growth and lifetime friendships in God's great outdoors. Space is still available for youth ages 8-18 in all camp sessions. Residential camp activities include swimming in our pool and the river, canoeing, kayaking, archery, arts and crafts, chaplain time, the ropes course, zip lines, bonfires, silly songs, games and skits all supervised by the fantastic Chanco counseling staff.

If your camper craves more adventure, then the Out Trip sessions might be just the right fit! These sessions will leave Chanco grounds and include activities ranging from caving, climbing and rappelling to jet boat trips, surfing lessons and flat water eco-tours...just to name a few. The Jr. Sr. High Conference (ages 13-18) is led by volunteer Christian educators and clergy from around the diocese and is a bargain at $300.00. In response to camper surveys, this conference has been moved from August to July in order to accommodate high school sports and schools that begin in August. This conference combines all the elements of traditional residential camp along with a spiritual themed retreat program. We hope to see a large group of teens from all around our diocese at this transforming camp event.

Visit us at one of our open house dates (April 7th and April 27th from 1-5 pm) and take a tour of the property, meet our executive director, Gareth Kalfas, and fly along a zip line. One visit and your child will be counting the days until his/her camp session!

If your child is ready for an experience full of laughter, fun, new friends, personal growth, and increased independence and self-confidence this summer, then Chanco is for him/her! Don't wait! For more information or for easy online registration, visit www.chanco.org today or call 1-888-7CHANCO and sign your child up for the summer experience of a lifetime!